This is a message given at Dayspring Church, Germantown, Maryland, on September 9, 2018, which you can also listen to. The photo below was taken during the service. I am in the center, surrounded by members of the Retreat Mission Group.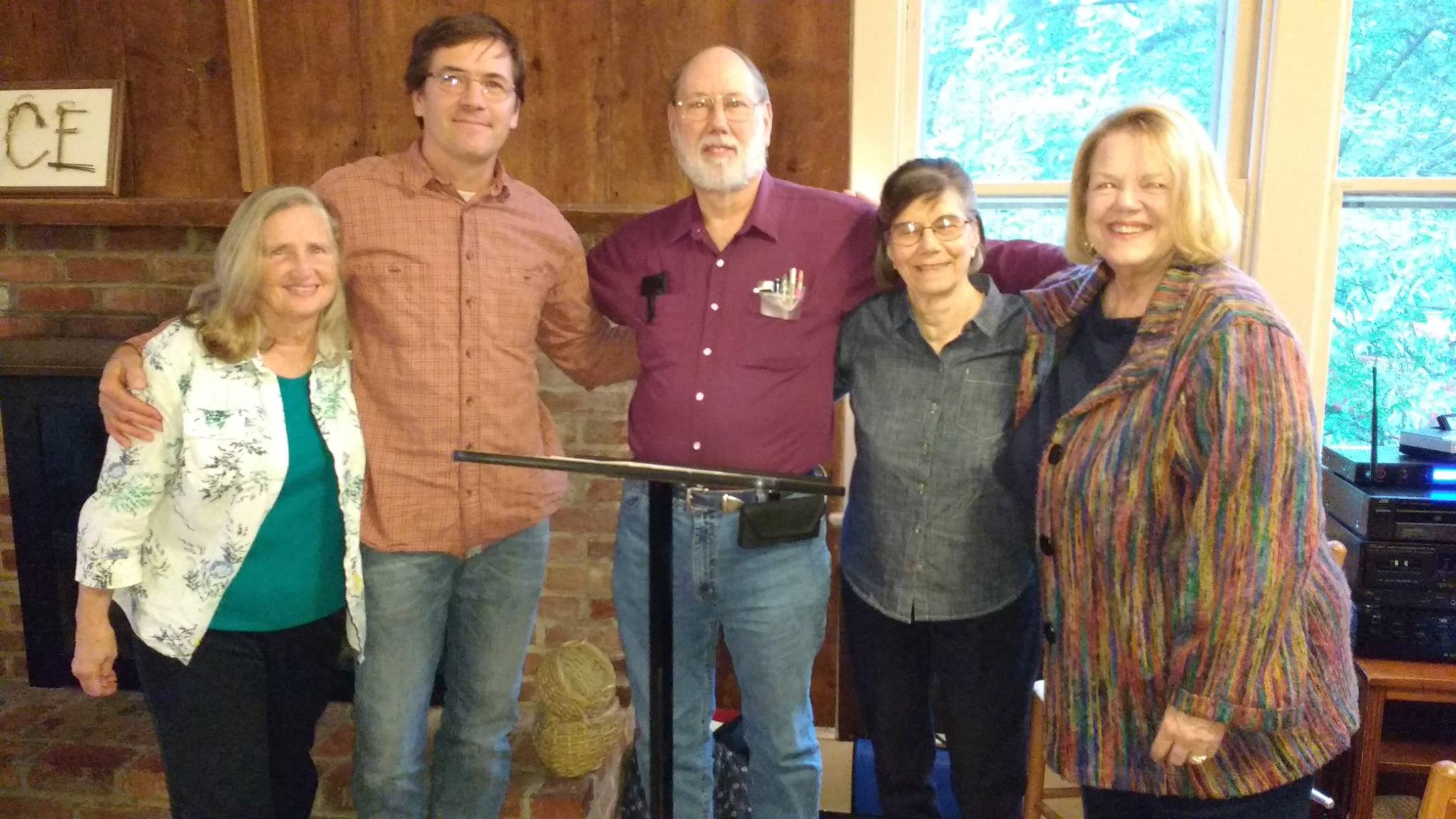 Good morning! Today I make the commitment to be an Intern Member at Dayspring. I thought it would be good to share with the community some of the things which underlie this decision.
My apologies to those hoping for an exploration into today's lectionary readings. You aren't going to get much of that!
In the spring of 2014, my wife and I moved to Rockville. Initially, I continued to attend the church where I had been a member for 9 years, despite it being twice as far now.
I shared the values of that church, but it was a couple of hundred people which was big to be a real community. There were folks I saw each Sunday whose faces I recognized, but I didn't know their names let alone anything about them.
That church tried to be participatory, but at its size it was still mostly a relatively small group of leaders talking to a much larger audience. I became increasingly uncomfortable with this de facto division in the congregation.
Then I attended the Fall Gathering of the Friends of Jesus Fellowship, with which I had been involved for a couple of years. That particular Gathering had a strong charismatic flavor which I loved. In me, this resulted in a feeling that it was time for me to seek a new spiritual home.
Following on the charismatic flavor of that Gathering and all I felt I had learned in my previous time when I had attended a charismatic church for a while, I decided to see if I could find a nearby charismatic or Pentecostal church which seemed to have a theological bent I could live with.
So I began Googling for such churches in the Rockville-Gaithersburg area. None of the charismatic or Pentecostal churches in the area seemed like a place where I was likely to be comfortable.
While I was googling, ads for Journey's Crossing kept popping up. Journey's Crossing was then meeting at Seneca Valley High School here in Germantown. I had not looked at Germantown because I was still somewhat ignorant of the geography in the area, and had assumed it was too far. But when I put it in Google maps, it wasn't nearly as far as I thought.
I didn't think Journey's Crossing was likely to be where I would land, but it seemed interesting and I did attend a couple of times. This confirmed that Germantown was within reach.
Then I recalled Dayspring, where I had been at the retreat center a few times. I was aware there was a church at Dayspring.
The Church of the Saviour had long intrigued me, but my experience with it was limited. I had been at the Potter's House a few times in the 1970's, visited 2025 one Sunday, been to retreats at Dayspring and Wellspring, and had read Elizabeth O'Connor's Journey Inward, Journey Outward with a church group.
In November 2014, I began attending Dayspring Church, and have attended regularly ever since. Why have I been so drawn to Dayspring?
When I was thinking about this, a scripture which popped into my mind was Galatians 5:22-23:
By contrast, the fruit of the Spirit is love, joy, peace, patience, kindness, generosity, faithfulness, gentleness, and self-control. There is no law against such things. (NRSV)
I can't recall a faith community of which I have been a part where I have seen this fruit so clearly and widely exhibited as at Dayspring. This reflects the CofS tradition which expects each member to be serious about their faith, and provides guidance in ways to grow in it.
So here was a faith community in which I could be challenged to grow in my walk with Christ, being encouraged by what I see in the faith community.
I will speak about just a couple of these attributes of the Spirit.
It seems evident to me that the people of Dayspring genuinely love each other and those that visit. It is also evident that this love extends much more broadly, for example to the refugees being helped by IFND. I see here the living out of the Greatest Commandment and the one that is like unto it.
Dayspring folks exhibit a joy that is not dependent upon circumstances. It is a joy that is not just at the surface level, and one that exists despite awareness of deep evil and pain in the world.
True joy recognizes that despite all these problems, we are truly blessed and there is much to be thankful for and much reason for hope.
In our scripture for today, in Psalm 146, it says, Praise the Lord! Praise the Lord, O my soul! I will praise the Lord as long as I live; I will sing praises to my God all my life long.
This attitude should not take away our concerns for the world, but rather motivate them. William Penn said, "True godliness does not turn men out of the world, but enables them to live better in it and excites their endeavors to mend it."
So how does this work? In the CofS tradition, there is an emphasis on a balance and interchange between the inward and the outward life. This is not a unique insight of the CofS, but it is a particularly strong emphasis here.
I have seen that sometimes in faith communities there arises a division between the activists and the "spiritual" folks. This can be very harmful to the unity of the faith community. And if it festers, those on either side of the division become more one-dimensional, less whole.
When we look at the life and ministry of Jesus, we see someone who clearly transcended this division. Rather, he regularly retreated to a quiet place to take time to pray. This enabled Him to gather the strength needed for his outward ministry of reaching out to others with healing, teaching, etc. He saw these as intrinsically connected.
In many faith communities, there are groups – committees, boards, teams, etc. – which oversee the outward work of the ministries of the church. And there may also be other groups which focus on the inward journey of church members, where the spiritual disciplines may be encouraged.
In the early years of the CofS, Gordon [Editor's Note: Gordon Cosby, founder of The Church of the Saviour] recognized a need to get away from this traditional way of organization. Out of this recognition grew the mission group orientation which has become so central to the CofS tradition. Mission groups are deliberately structured to include both the inward journey and the outward journey.
I hope members never forget how big a treasure the mission group model of the CofS is. It remains rare. I believe it is one of the keys to the small CofS faith communities having done so much good in the world. Church life has been carefully structured to facilitate proper grounding for our ministries.
I often see at Dayspring both a willingness to live out and articulate the spiritual insights folks have learned, and a recognition that they need to continue to grow which includes an eagerness to truly listen to the insights of others. Mature Christians do not think they have it all together, but recognize both the gifts they have received and their need to continue to grow in Christ.
Jesus' strongest opponents were the legalist religious leaders of his day. Yet today many of those who claim to be the strongest followers of Jesus have a legalist, doctrinaire approach. I appreciate that Dayspring doesn't insist on a rigid theological perspective or overly restrictive standard of behavior.
It seems to me one of the strengths of the CofS way is that it emphasizes following Jesus Christ while welcoming the exploration and questioning of what exactly that means in our lives. There is a spirit of listening even to understandings that may not initially appeal to us with openness and a willingness to learn.
Another strength is in asserting that all members are ministers of the gospel, rejecting the unbiblical idea of a laity in the faith community. I especially appreciate Dayspring's decision not to have a single pastor to play the key role in worship, but to spread leadership among the gathered community. I appreciate hearing the insights and experiencing the gifts of multiple people in our community in weekly worship as well as in other aspects of community life.
And remember that I set out on the search for a new faith home that ended at Dayspring by looking for a community that was charismatic? Dayspring isn't normally described as a charismatic church, but to me what I seek as charismatic is an openness to how the spirit may move in the moment. I have seen some of that in worship at Dayspring, and I really appreciate the freedom for people to respond in worship beyond what is in the printed bulletin.
Now let me move from the Church in general, and to my specific call to the Retreat Mission Group.
I have an activist temperament. Back in my 20's, I tried to be involved in every good thing. The result was that I collapsed in exhaustion.
That experience taught me that I needed to stop frantically trying to do all the "right" things and instead seek to discern God's call for my own life and trust God to call others to do the needed things to which I was not called.
This led me to look more to the inward journey, and to become involved in things like organizing spiritual retreats and going through the Spiritual Nurture Program of the School of the Spirit. I sometimes called myself a spiritual renewal activist.
There is much which needs doing in the world to bring about the reconciliation of all creation with Christ. I get discouraged when I see a lot of activism that is full of fury and even hatred. This won't get us where we need to go.
I believe there is a deep need in these times in our society for those who want to heal this world to "be still and know that I am God" so they can be centered for the work needed and discern their role given their own God-given gifts. This highlights the importance of the work of the Silent Retreat Center.
I began talking with Catherine in 2015 about the possibility of joining the Mission Group. I came to realize I needed to be released from some of the things to which I was then committed in order to free myself for this call.
In 2017, much of that release came to fruition. I started sitting with the Retreat Mission Group in February 2018.
Since I started meeting with the Mission Group, I have felt at home there. I feel blessed to meet weekly with these special folks and to play some role in this important ministry.
I am sorry that this message has been a little choppy, but I hope it has given you a feel for my call to Dayspring Church and the Retreat Mission Group.
If there are some things you would like to clarify, I think there is time for a couple of brief questions.
Note: The questions and answers can be heard in the audio version.
Intern Member's Commitment, Church of the Saviour
I commit myself to the covenant of my mission group. By this I declare my willingness to be held accountable for the disciplines that the members have made explicit. I recognize that in making this pledge I am committing myself to involvement with people who are not like me – whose opinions and ways may be in opposition to my own. I thus declare my willingness to be stretched in uncomfortable ways, and to live in the tension and pain of unresolved relationships until differences shall be transcended and hurt transmuted.
I acknowledge that the cornerstone of this community is Jesus Christ, Servant and Liberator – the One who said, "Love one another as I have loved you. There is no greater love than to lay down one's life for one's friends" (John 15:12-13). In committing myself to the covenant of the mission I confess my willingness to take upon myself the lifestyle of servant. I will endeavor to grow in my availability to each person in the group and I will join in the struggle for the liberation of the oppressed.
I will seek not only to receive, but to give, not only to be loved, but to love. I will give myself to discovering what it means to be a free person in community and what it means to be a community of free persons.
I recognize that though I am bound by the covenant of my mission group, I am ever free to break with it – never by default, but by open decision arrived at through meditation and in conversation with members of my group.
I celebrate this day because I believe that in binding myself in this covenant, I will be given new possibilities for a life of growth, freedom, and devotion.
[From Handbook for Churches and Mission Groups: Disciplines and structures of a church and a mission group developed during fifty years at The Church of the Saviour, by Dorothy Devers and N. Gordon Cosby.]
–Bill Samuel, September 9, 2018