At my church, Dayspring Church in Germantown (Maryland), a member faith community of Church of the Saviour, we have a Peace and Justice Candle brought to us by a member who was a Methodist pastor in South Africa and active in the struggle against apartheid. The Peace and Justice Candle is a candle surrounded by barbed wire. The barbed wire symbolizes something that is an obstacle to the Beloved Community, and the flame of the candle symbolizes the light of Christ shining in the darkness. Each Sunday, someone offers a reflection and lights the Peace and Justice Candle. This is my reflection offered on February 3, 2019.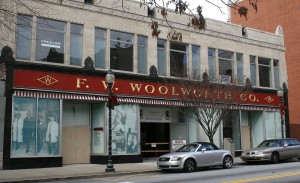 By dbking from Washington, DC – Greensboro, NC "Sit In" 1960, CC BY 2.0, Link
On February 1, 1960, 4 black students sat down at a Woolworth's lunch counter in Greensboro, North Carolina, and asked for coffee. The store refused to serve them, and the students came back each day, soon with many more joining them, until July 25th, when management started serving blacks at the lunch counter.
This wasn't the first such sit-in, but this sit-in got national coverage and inspired people in many other cities to engage in such actions. It prompted statements of support from President Eisenhower and other prominent white Americans. And many lunch counters in a number of states were desegregated after sit-ins. 4 years later, the Federal government enacted the Civil Rights Act barring segregation in public accommodations.
The courageous nonviolent witness of many people in a number of places, some of whom endured physical attack, did result in progress in the struggle against the evil of racism.
While the sit-ins and other acts of public witness in that time period resulted in significant progress, deeply embedded structural racism has continued to result in unfair treatment of African-Americans and other minorities in many ways in our country. A few examples of the many ways racism continues to impact African-Americans:
• In 2017, Harvard Business School analyzed 24 field experiments testing hiring discrimination over a period of 15 years. This meta-analysis showed that white applicants on average received 36% more callbacks than black applicants, and 24% more than Latinx applicants with identical resumes. Furthermore, it indicated that the situation had not improved for black applicants over the 15 years reviewed.
• A 2016 study by the Pew Research Center found that the median wealth of non-Hispanic white households was $171,000, 10 times greater than the $17,100 median wealth of black households.
• African-Americans comprise only 13% of the U.S. population and 14% of the monthly drug users, but are 37% of the people arrested for drug-related offenses and 57% of the people in state prisons for drug offenses.
• An African-American male born in 2001 has a 32% chance of going to jail in his lifetime, while a Latino male has a 17% chance and a white male only has a 6% chance.
If I tried to give all the possible information on how racism impacts African-Americans, we'd probably still be here at kickoff for the Super Bowl. Suffice it to say there's a lot of work to do, and we each need to prayerfully consider our part in that work.
The barbed wire symbolizes how racism limits the opportunities for African-Americans to show their God-given potential. The flame that I am about to light symbolizes the light of Christ who came to liberate the oppressed and call us to be the Beloved Community.
– Bill Samuel