At Dayspring Church, we have a peace and justice candle brought to us from South Africa. Each week, someone shares a reflection around a peace and justice theme and lights the candle. The barbed wire around the candle represents some barrier people have created between themselves and the light of Christ, which is represented by the candle. We believe the light of Christ ultimately prevails, and we are called to be witnesses to that light.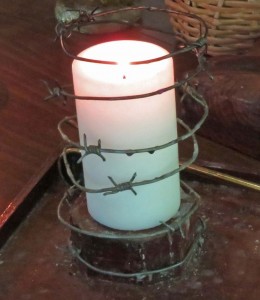 Today (July 8, 2018), I shared about nuclear weapons. You can listen to the audio of the reflection. The text is below.
When I thought about what I might share during this time today, I decided to look at what happened on this date in history. That gave me a couple of ideas. The one that I chose was that in 1957, on this date, the First Pugwash Conference on nuclear disarmament was held. Pugwash is a peace effort initiated by scientists. 2 years prior to that conference, Bertrand Russell initiated a manifesto signed by 11 scientists and intellectuals warning of the dangers of nuclear war. One of the signers was Albert Einstein, who died only a few days after signing.
The issuance of this manifesto received a lot of attention, more than Russell had anticipated. The industrialist and philanthropist Cyrus Eaton responded by offering to sponsor a conference at his birthplace – Pugwash, Nova Scotia. Since 1957, each year there has been a Pugwash Conference on Science and World Affairs. The organizers state the official purpose this way: "Pugwash seeks a world free of nuclear weapons and other weapons of mass destruction."
As we all know, the USA is the only nation to have used nuclear weapons in war. We don't have an exact death count from the nuclear attacks on Hiroshima and Nagasaki, but Wikipedia states that at least 129,000 human beings were killed, mostly civilians. In terms of discrete events happening in a single moment, these two attacks surely rank #1 and #2 on the list of acts of terrorism and war with the greatest number of fatalities.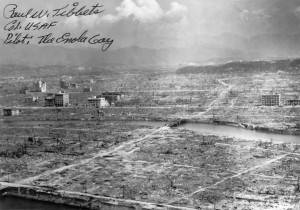 The nuclear arms race has continued since that time. 4 other events I found in the July 8 listing were nuclear tests. The Federation of American Scientists finds that about 9300 nuclear weapons are currently in military stockpiles. About 90% of these are held by the USA and Russia. The USA is currently engaged in a process of modernizing our nuclear weapons arsenal costing we taxpayers about $1.2 trillion, according to the Congressional Budget Office. In response, Russia is also modernizing its nuclear arsenal.
There have been many efforts to deal with this problem. A year ago yesterday, the UN Treaty on the Prohibition of Nuclear Weapons was approved by 122 nations. These 122 included South Africa and Kazakhstan, the 2 nations formerly possessing nuclear weapons which gave them up voluntarily. Unfortunately, the current nuclear weapons states were not receptive to this effort. North Korea was the only nuclear weapons state which voted in the General Assembly for holding the conference which negotiated the treaty, and no nuclear weapons state participated in the negotiations and none have signed the treaty.
Today the barbed wire represents the danger posed to humanity and all of creation by nuclear weapons and other weapons of mass destruction. Inside the barbed wire, the candle flame represents the light of Christ calling on us to recognize our common humanity and to live in peace with one another.
[light the candle]
Let us pray. Lord, forgive us for our complicity in programs developing and deploying weapons of mass destruction. Guide us in living lives demonstrating respect for the dignity of each human life. We pray that our national leaders, and those of other nuclear weapons states, will be moved to work for a world free of weapons of mass destruction. In the name of the Prince of Peace, we pray. Amen.
Tags: nuclear weapons